The SS Great Western was designed by IK Brunel and built by shipbuilder William Paterson at a shipyard on Wapping Wharf from 1836.
The prospectus of the Great Western Steamship Company of Bristol, stated that the ambition was the 'establishment of regular lines of steamships between Bristol and those Western Ports to which her geographical position renders her most eligible, the first to be directed towards the United States of America.'
At the time she was the largest steamship in the world and her maiden voyage from Bristol to New York was on 8th April 1838.
Princes Wharf was created in circa 1870 by covering over shipyards including Wapping Dockyard which had been built in 1742.

Prince Street Drawbridge was built in 1809 and replaced in 1878 with a swing bridge.
A grain elevator rises from the top of the warehouse, with grain pipes descending diagonally to the various floors. Prince Street Bridge can be seen to the right of the photograph.
City Docks view from Narrow Quay to Princes Wharf with ss 'Bristol City' and granary. Bow of 'Stargard' on right. Also includes Guinness transit sheds, Fairbairn steam crane and St Raphael's church.
Princes Wharf – Princes Shed, Princes Wharf granary, grain sheds and Fairbairn steam crane. s/s 'Stanja' and s/s 'Cato' berthed at Princes Wharf. Fred Ashmead's 'Hubert', 'Conroy' and barges on Railway Wharf.
Bristol Corporation Granary Princes Wharf in 1938 was built 1888 and bombed 1941
Tug "Conroy" towing train of two barges towards Redcliffe. Beyond Prince Street Bridge, Princes Wharf undeveloped since clearance of war-damaged granaries. River Police station behind bridge engine house.
History of the Princes Wharf Cranes by Andy King
This ship is one of two owned by a sailing charity called Jubilee Sailing Trust, and it was specially adapted to allow people with physical impairments to sail tall ships on the ocean. Sadly the owners can not afford to run it any more and it awaits its fate at Princes Wharf having arrived in October 2019.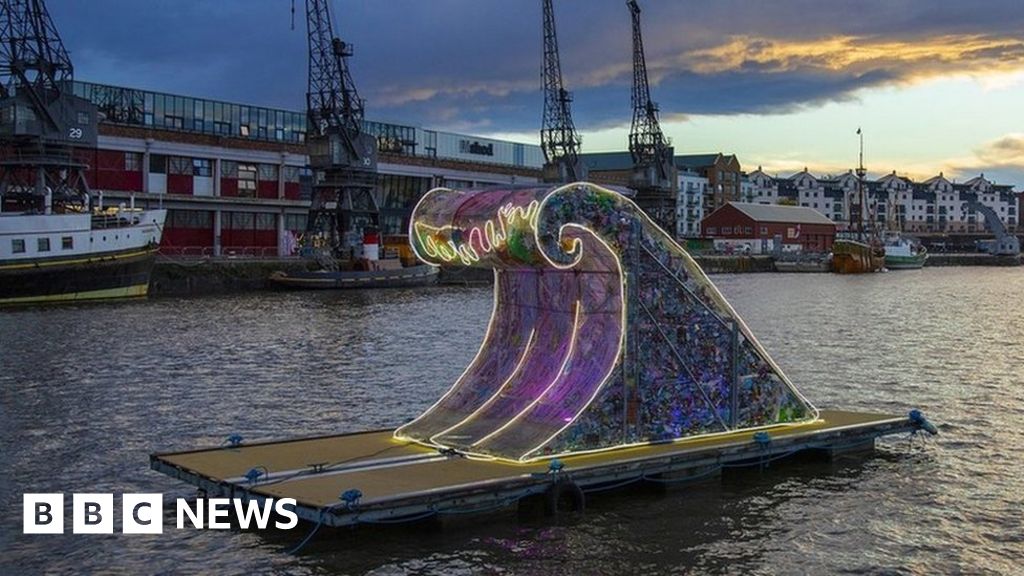 Sculpture made of rubbish unveiled in Bristol harbour
Four electric cranes have been given Grade II status in recognition of the role they and the docks played in Bristol's industrial history.
The cargo-handling cranes were erected in 1951 at Prince's Wharf and served the L and M sheds.